EXPERIENCE OTR
With plenty of exciting new restaurants and eclectic shops, you can enjoy OTR before and after your time at the MEMO.
Historic Memorial Hall is located in the heart of the revitalized arts district of Over-the-Rhine in Cincinnati, Ohio. The Hall's physical address is 1225 Elm Street, Cincinnati, Ohio 45202. Sitting directly across the street from recently renovated Washington Park, and just blocks away from OTR's bustling entertainment district, you can turn your trip to the MEMO into a whole day, or evening, of fun!
Check out Washington Park for daily activities from spring to fall, or spend the day shopping at unique, locally owned retail shops just a few streets over.
Looking for a delicious meal pre-show, or a drink after a concert? You can find award-winning cuisine and cocktails at a whole host of bars and restaurants just a stone's throw away.
For details on the shops, restaurants and bars in the area, explore the interactive map below.
No Firearms are allowed in Memorial Hall. A valid concealed carry permit does not authorize you to carry a firearm into the building.
Note: Memorial Hall prides itself on being accessible to all. For accessibility information, click here. 
WHERE TO PARK
The most convenient parking option is directly across the street at the 1- Washington Park Garage. Other options include:
2 - YMCA/Elm Street Lot on Elm Street
3 - Mercer Garage on Vine Street between 13th & 14th street
4 -Town Center Garage on Central Parkway opposite Music Hall under WCET
5 - SP+ Surface Lot situated directly between Memorial Hall and Music Hall (usually most expensive, fills quickly)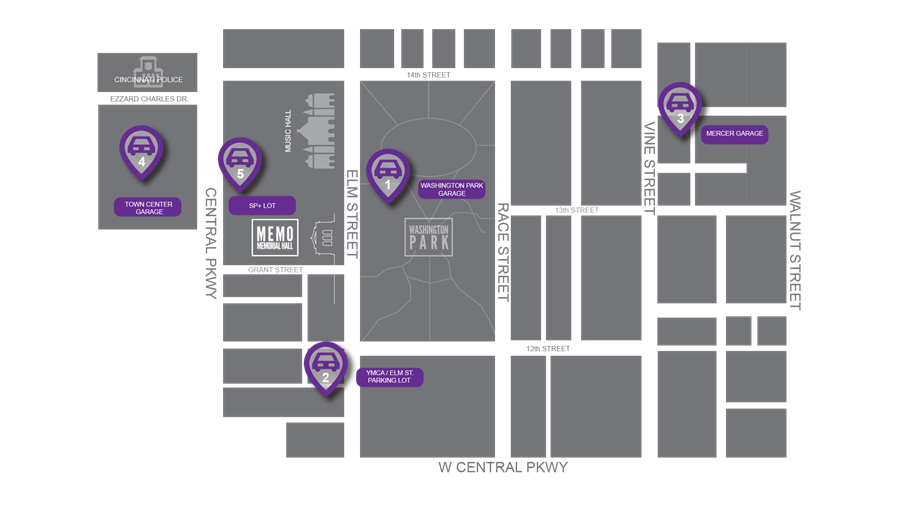 click to interact
$${ popup.detail.title }
$${ popup.detail.address}
$${ popup.availability == 'available' ? 'Available' : 'Occupied' }
View Detail
Visit Website