MEMO AT HOME
VIRTUAL SERIES
Having difficulty accessing the MEMO at Home streaming content? Here are some instructions we hope will be helpful.
1) Pick the show you are interested in and get a free ticket. You can either reserve that online, or call the box office at (513)977-8838 to do this. If you are interested in multiple shows, you can either reserve those separately or all at the same time. It does not make a difference.
2) After the ticket is reserved, you will get an email from ordertracking@tickets.com. In the email, click where it says "Click Here to print your tickets at home."
3) This will bring up a new page/tab on your browser. Click this button (right side of page about 2/3rds of the way down)  


4) This opens a PDF. the link to the content is listed two different ways in the right column (see below). Due to an issue with YouTube, linking directly to the videos does not always work. If you encounter an error clicking on the link, cut and paste the address at the bottom into a browser.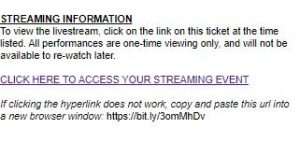 The Box Office is open via phone Monday to Thursday from 1 - 6 PM at (513)977-8838. Feel free to call them if you need assistance.
The show you signed up for will generally be available from the date listed on the ticket through Sunday of the same week.