Memorial Hall has taken significant steps to provide a safe environment for our patrons and performers, as detailed herein. If you are uncomfortable with attending an indoor performance with these safety measures in place, please do not attend. We will be happy to issue full refunds to anyone who wishes not to attend as a result of changing conditions with the pandemic.
As part of our commitment to the health and well-being of our staff, guests and the community, it is our intention to keep you informed of the precautions that we are taking to ensure safety. We continue to implement preventive measures consistent with the recommendations of the Centers for Disease Control and Prevention (CDC) and other local health agencies.
In addition to our standard procedures, our staff and cleaning crews are taking extra precautions to frequently disinfect high-touch and high-traffic areas. Our staff will be wearing masks and doing health screenings before each shift.
As of July 8th, the State of Ohio requires individuals wear masks in public, including indoor spaces such as Memorial Hall and outdoor spaces where social distancing is not possible. Therefore, masks are required for entry to Memorial Hall unless an individual is exempt by the Governor's order. You may read the full details of that order here.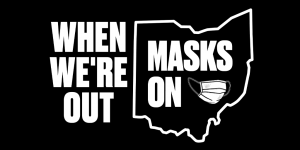 We have made hand sanitizer readily available throughout the building and ask that guests join us in taking the recommended preventative steps. Please refer to the CDC's guidelines for the most current information and advice. Social distancing will be in place throughout the building. Elevators will be limited to one guest or socializing group at a time. Masks are required for all patrons. You will notice directional signage throughout the space, and maximum occupancy posted on each room. Memorial Hall's bar will accept only credit card and other contactless forms of payment at this time, and snacks will not be served. Ticket purchasing, will call and scanning will be touchless. Please follow the conditions and guidelines of all marked signage to help us ensure a safe environment.
Any person who has tested positive for COVID-19 within the past 10 days, or experiencing any of the following symptoms of COVID-19, should not enter:
Fever or chills

Cough

Shortness of breath or difficulty breathing

Fatigue

Headache

Muscle or body aches

Diarrhea

Sore throat

Nausea or vomiting

New loss of taste or smell

Congestion or runny nose
---
DETAILED PROTOCOLS: Memorial Hall is committed to providing a safe and sanitary environment for the execution of events by our rental clients. To that end, we will be employing the following protocols: 
Elevators will be restricted to one individual, family or social unit per elevator car.

Hand sanitizer will be available at key points throughout the facility.

Memorial Hall staff and volunteers will:

Wear masks at all times. If appropriate, staff will also wear gloves.

Regularly wash their hands

Regularly disinfect public spaces, with a focus on high-touch areas, before, during and after events.

Respect social distancing

Be sent home if exhibiting signs of infection

All patrons will acknowledge the regulations for admittance to Memorial Hall, either through the online purchase process or by signing a waiver upon entering the facility. Those regulations include:

Patrons are strongly advised to wear face masks at all times while in the facility.

Patrons who exhibit symptoms of COVID-19 will be asked to leave.

Patrons who do not respect building regulations, including social distancing, will be asked to leave.

Patrons must be prepared to provide their contact information to Memorial Hall staff should we need to assist in contact tracing.

Restroom access will be limited, and restrooms will be disinfected hourly.

Social distancing will be implemented throughout the building.

Lines will form with 6' distance to enter the building, and to reach the office, bars, restrooms, merchandise and vendor tables.

Seating in the building will allow individuals, family or social groups 6' of separation from adjacent table or line formation.

Patrons are asked to respect each other by maintaining 6' of separation when moving about the facility, as possible.

Bar service:

Bars will not accept cash. Credit cards will be swiped by the patron and will not be touched by staff.

Signatures will not be allowed.

Plexiglas barriers will be placed between bar staff and patrons.

Snacks will not be served, beverages only.

Beverages must be enjoyed while seated.

Vendors / Merchandise Sales:

Vendors are encouraged to use touchless payment systems

Vendors will wear facemasks at all times

Vendors are encouraged to prevent patrons from touching merchandise prior to purchasing.
All of these policies and protocol will be shared with patrons on the Memorial Hall website and via on-site signage.