American Roots Series Memorial Hall & Eli's BBQ present Asleep at the Wheel w/ The Quebe Sisters
Ray Benson founded Asleep at the Wheel in Paw Paw, West Virginia 48 years ago. Now based in Austin, the band holds 10 Grammy awards, 20 studio albums and 20 singles on the Billboard country charts. the Grammy Award-winning Still the King: Celebrating the Music of Bob WILLS and His Texas Playboys is the band's most recent release (2015) and marks their third full-length Bob WILLS tribute album. Featuring 22 acclaimed collaborations, the all-star lineup includes legends such as Willie Nelson, Merle Haggard and George Strait and newcomers like the Avett Brothers, Amos Lee, Old Crow Medicine Show and many other fine talents.
Asleep at the Wheel is bringing a fresh look, sound and New Album in 2018. With recent additions Katie Shore (fiddle, vocals), Dennis Ludiker (fiddle, mandolin) Connor Forsyth (keyboard, vocals) and Josh Hoag (Bass) Asleep at the Wheel's newest members have given a newfound energy and their own unique style within the band. Asleep at the Wheel veterans David Sanger (Drums) Eddie Rivers (Steel Guitar) and Jay Reynolds (Saxophone and Clarinet) round out the now 8 piece band. Between those Texas Twin Fiddles and Boogie Piano, you can bet you'll be dancin' down the aisles and swingin' all night long when the Wheel rolls into town
---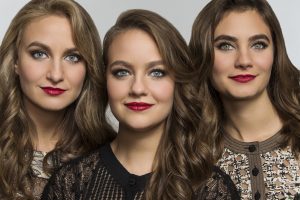 Grace, Sophia, and Hulda Quebe front an innovative Progressive Western Swing band of archtop guitar, upright bass, fiddles and sibling harmony. The Dallas-based five-piece presents a unique Americana blend of Western Swing, Jazz-influenced Swing, Country, Texas-Style Fiddling, and Western music.
"We differentiate our music as 'Progressive Western Swing' from simply 'Western Swing' because we aren't trying to sound just like Bob Wills," Grace Quebe explains. "Instead, we continue his vision, playing the style he pioneered in an authentic way by incorporating new genres and songs, interpreting them using our own unique voice through Country instrumentation."
The band's stripped-down acoustic instrumentation breathes new life into seasoned sounds once found in Texas dance halls and honky-tonks. Grace continues, "To us, preserving the tradition of Western Swing isn't about keeping something alive like a relic. Western Swing has always been about innovation."
Innovation has led the sisters to channel the musical connection between danceability and emotiveness, combining old sounds with new feelings and old feelings with new sounds. It's not nostalgia that drives the band as purveyors of Western Swing, but the aspiration to take the music back to its roots and sustain the spirit of Swing.
Date:
Fri, November 01, 2019
Purchase Tickets
View Seating Chart
Back to all shows