Chinese New Year Celebration 2020 featuring the Shanghai Chinese Orchestra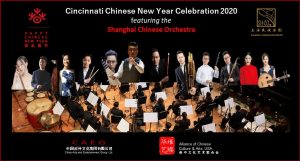 Shanghai Chinese Orchestra (SHCO), founded in 1952 in China. It is famous for its harmonious cooperation among the members of orchestra and its excellent mastering of all kinds of works. Shanghai Chinese Orchestra is the first big-scale modern Chinese Orchestra plays an important role in the development of Chinese music. After more than half a century development, SCHO now turns into a large-scale integrated national orchestra embracing four sections, that is, the stringed, plucking, wind and percussion voice, and thus accumulated a number of classic works and projects.
At the beginning of the year 2018, the concert New Oriental Chinese Music Scene was brought by SHCO's tour performances to eight cities in four countries including Britain, France, Belgian and Germany. These concerts were all performed in the world famous and first-class concert halls throughout Europe, having made a great coup during the nearly-20-days concert tour.
Date:
Fri, January 24, 2020
Time:
Pre-Concert Festival 6:00 PM, Chinese New Year Concert 8:00 PM
Purchase Tickets
View Seating Chart
Back to all shows